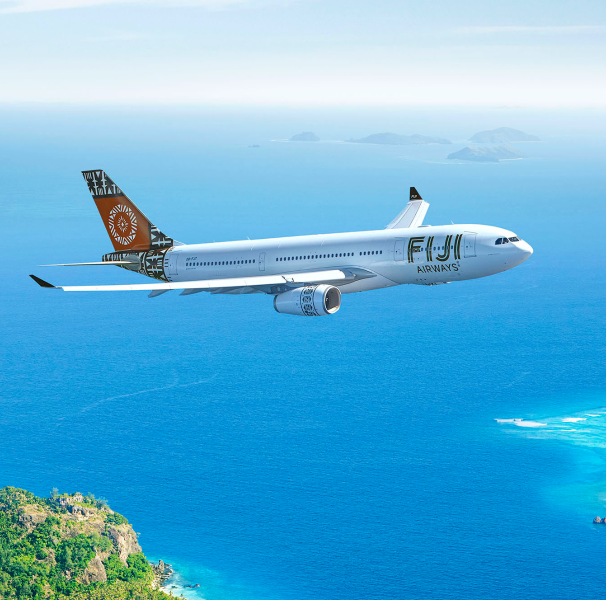 At a glance
21

目的地

13

Countries/Territories

Tabua Club Plus

マイレージプログラム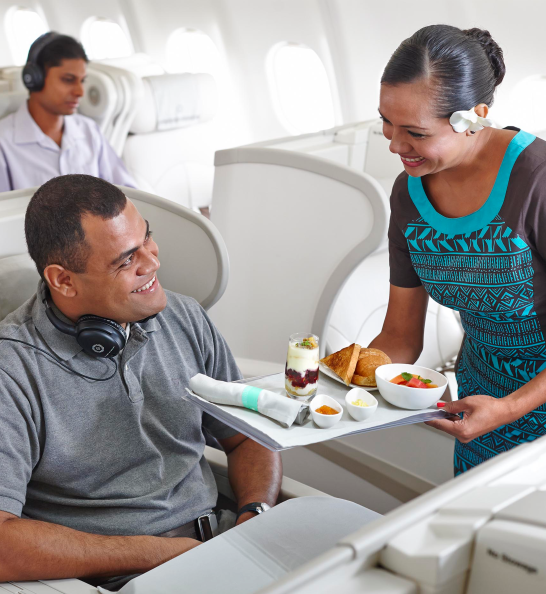 Privileges, points and more.
oneworld connect partners provide select alliance benefits to frequent flyers from any oneworld member airline travelling on their flights, with a more extensive range of benefits offered with a subset of oneworld member airlines, known as their "oneworld sponsors".
As a member of Fiji Airways Tabua Club Plus you will receive priority check-in, priority boarding and lounge access (with 1 guest) on eligible flights when travelling on oneworld connect partners American Airlines, British Airways, Cathay Pacific and Qantas Airways.
Lounge Access.
Indulge yourself before departure when travelling on a oneworld connect journey involving Fiji Airways and a oneworld sponsor, either British Airways, Cathay Pacific or Qantas Airways.
Access while travelling
CX flight number/code (FJ operated service):

HKG to NAN
CX flight number/code & CX operated service:

HKG-SIN / HKG-BKK
ご利用資格
Diamond Tier
First/Business Class Lounge:

Eligible + 2 guests
Gold Tier
Business Class Lounge:

Eligible + 1 guest
Access while travelling
CX flight number/code & CX operated service:

BKK-HKG
Access while travelling
CX flight number/code & CX operated service:

SIN-HKG
Access while travelling
CX flight number/code (FJ operated service):

NAN to HKG
CX flight number/code (FJ operated service):

HKG - NAN
Access while travelling
QF flight number/code (QF or FJ operated services)
Access while travelling
QF flight number/code (QF or FJ operated services)
Access while travelling
QF flight number/code (QF or FJ operated services)
Access while travelling
QF flight number/code (QF or FJ operated services)
Access while travelling
QF flight number/code (QF or FJ operated services)
Access while travelling
QF flight number/code (QF or FJ operated services)
Access while travelling
QF flight number/code (QF or FJ operated services)
Access while travelling
QF flight number/code (QF or FJ operated services)
Access while travelling
QF flight number/code (QF or FJ operated services)
Access while travelling
QF flight number/code (QF or FJ operated services)
所在地

London - Heathrow (LHR)
Access while travelling
QF flight number/code (QF or FJ operated services)
Access while travelling
QF flight number/code (QF or FJ operated services)
Access while travelling
QF flight number/code (QF or FJ operated services)
Access while travelling
QF flight number/code (FJ operated service):

NAN to AU/ NZ/ US
所在地

Singapore - Changi (SIN)
Access while travelling
BA flight number/code (FJ operated service):

NAN to HKG/LAX/SFO/ SIN/ NRT
Access while travelling
BA flight number/code (FJ operated service):

NAN to HKG/LAX/SFO/ SIN/ NRT
Access while travelling
FJ flight number/code (CX operated service):

HKG-SIN / HKG-BKK
CX flight number/code & CX operated service:

HKG-SIN / HKG-BKK
Access while travelling
FJ flight number/code & CX operated service:

BKK-HKG
CX flight number/code & CX operated service:

BKK-HKG
Access while travelling
FJ flight number/code & CX operated service:

SIN-HKG
CX flight number/code & CX operated service:

SIN-HKG
Access while travelling
QF flight number/code (QF or FJ operated services)
FJ flight number/code (FJ or QF operated services)
Access while travelling
QF flight number/code (QF or FJ operated services)
FJ flight number/code (FJ or QF operated services)
Access while travelling
QF flight number/code (QF or FJ operated services)
FJ flight number/code (FJ or QF operated services)
Access while travelling
QF flight number/code (QF or FJ operated services)
FJ flight number/code (FJ or QF operated services)
Access while travelling
QF flight number/code (QF or FJ operated services)
FJ flight number/code (FJ or QF operated services)
Access while travelling
QF flight number/code (QF or FJ operated services)
FJ flight number/code (FJ or QF operated services)
Access while travelling
QF flight number/code (QF or FJ operated services)
FJ flight number/code (FJ or QF operated services)
Access while travelling
QF flight number/code (QF or FJ operated services)
FJ flight number/code (FJ or QF operated services)
Access while travelling
QF flight number/code (QF or FJ operated services)
FJ flight number/code (FJ or QF operated services)
Access while travelling
QF flight number/code (QF or FJ operated services)
FJ flight number/code (FJ or QF operated services)
所在地

London - Heathrow (LHR)
Access while travelling
QF flight number/code (QF or FJ operated services)
FJ flight number/code (FJ or QF operated services)
Access while travelling
QF flight number/code (QF or FJ operated services)
FJ flight number/code (FJ or QF operated services)
Access while travelling
QF flight number/code (QF or FJ operated services)
FJ flight number/code (FJ or QF operated services)
Access while travelling
CX flight number/code (FJ operated service):

NAN-HKG
QF flight number/code (FJ operated service):

NAN to AU/ NZ/ US
BA flight number/code (FJ operated service):

NAN to HKG/LAX/SFO/ SIN/ NRT
FJ flight number/code & FJ operated service